MFCP DISTINGUISHED SERVICE AWARD 2023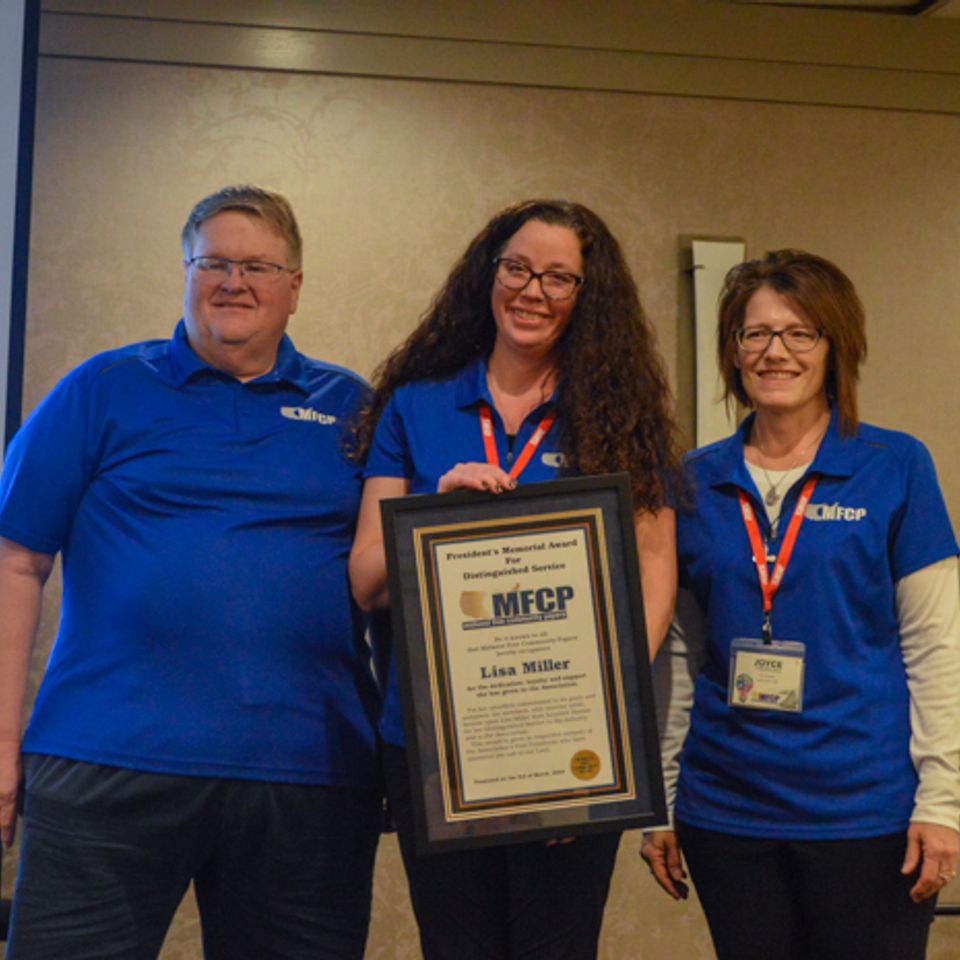 Congratulations Lisa Miller!
The MFCP membership was pleased to honor Lisa Miller as the recipient of the Distinguished Service Award.  In presenting the award Greg Birkett shared the following comments: 
Today we honor an individual who has given a great deal to this organization and to the free paper industry.
The Presidents' Memorial Award for Distinguished Service is given in memory of our past presidents who helped build this organization and our industry, and this year's honoree has worked to keep MFCP strong.
She has been in the community paper business for over 20 years and is the General Manager at New Century Press where she oversees 11 small independently owned weekly publications in four states including Minnesota, Iowa, North Dakota and South Dakota. They have 3 free-circulation publications in their operations. She has worked in circulation, production and management and that makes her the perfect person to help their company grow, help our association grow and help fellow publishers.
She joined the MFCP board in 2016, is a 2 term President and currently serves on the MVP committee and she chairs the Contest and Conference committees. And if that isn't enough – she also is 2nd Vice President for the National Association – the Association of Community Papers.
I asked some folks for comments about our honoree and everyone agreed she is always willing to lend a helping hand. Not just with her ideas – but is willing to roll up her sleeves and get the work done.
Lee Borkowski said she is always smiling, always willing to help and often says "it's no big deal".
One board member recalled how thirsty we all were one night setting up for a conference when a cooler appeared thanks to our honoree and solved our thirst problem.  That's her – always a problem solver! And we didn't get thrown out of the hotel either – but it was close.
Another board member commented about how she has earned the respect of our board and membership.
You may have read this in the latest issue of PAPERCLIPS, but our award winner recently drove several hours out of her way last minute on a Friday night to help ensure that a fellow publisher could deliver a print job on time.
She and her husband Ryan live in Rock Rapids, Iowa and have a son, Devin and a daughter, KyLee.
Always willing to lend a hand, always dedicated to her publications and always dedicated to our association. Please join me in honoring Lisa Miller for her Distinguished Service to MFCP.