2 NEW ADDITIONS TO MFCP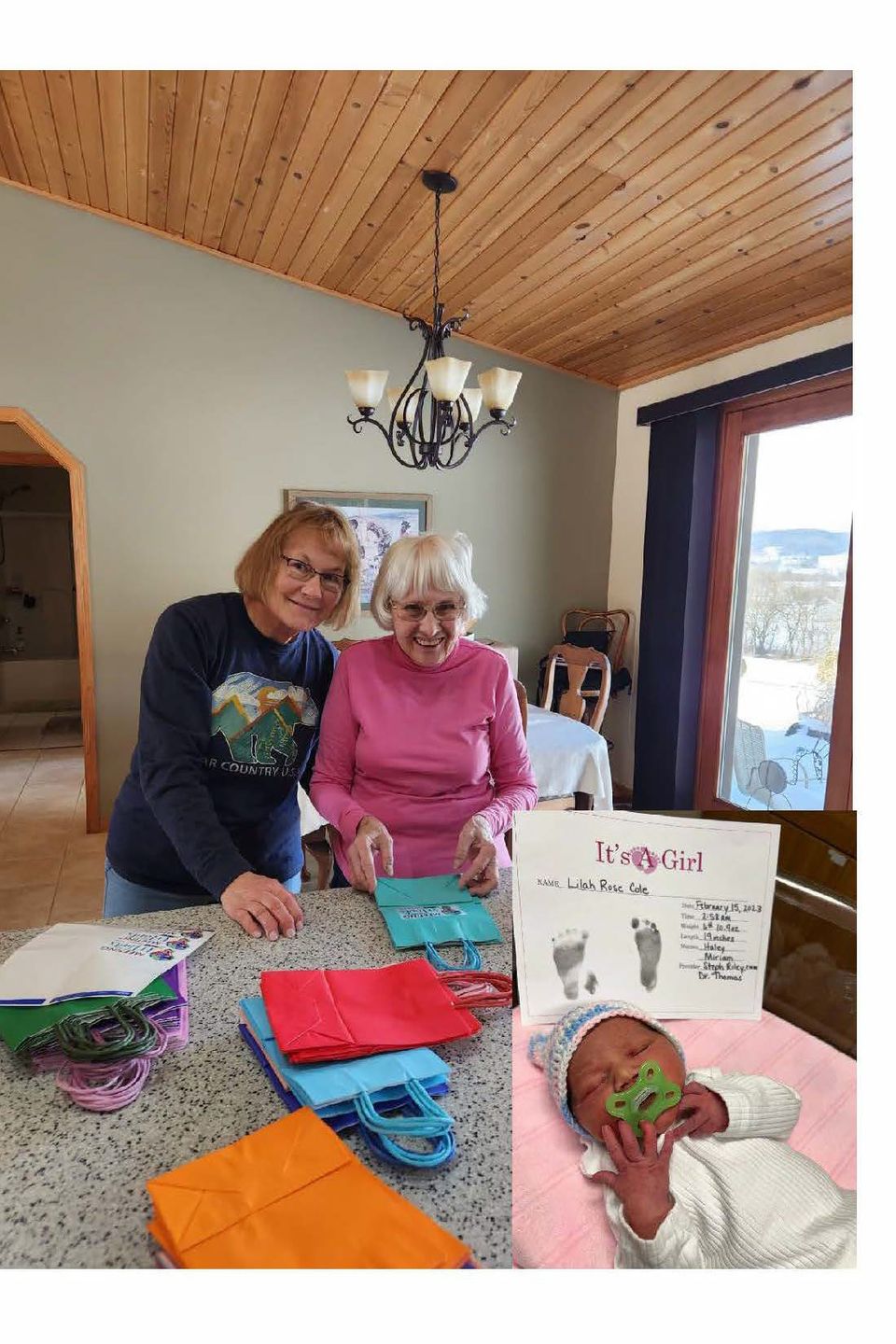 The MFCP family just keeps growing….
In fact, we had two new additions just last month.
Our oldest new member to the family is my mom…. Allana.  For those who don't know, my mom suffers from dementia. Growing up she worked outside the home as a bookkeeper.  She was very exacting in her work and always busy.  Now, she struggles with basic skills.  But she still wants to be helpful.  She asks about the jobs Sue Pilla and I do for MFCP and often offers to help… "if there's anything I can do" … "Do you need help with anything?"  "I can still work you know!!"
So, a couple of weeks before conference we told her we had a job for her.  We checked her out of the assisted living facility and brought her to my home.  Then we put her to work! Her job was to put the Meeting of the Minds labels on the attendee gift bags.  She was thrilled to help.  It took a little longer than it would have without her – but one look at the smile on her face and Sue and I both knew it was so worth the extra time.  Some of the labels were a little crooked but we knew that would be OK, too. Because the MFCP family and the free-paper industry was built on a basis of trust and support. Of building each other up and helping navigate hard times.
Our youngest new member was planning to attend the conference but her parents had to cancel at the very last minute.  Her name is Lilah Rose and she was born, February 15th, 2023.  She is a blessing to great-grandparents John and Peggy Loveless, grandmother Hillary Zidlicky and parents Garrett and Veronica Cole. It won't be long and Lilah will be old enough to have a paper route or stuff envelopes and that will make her the 5th generation to work in the family business!
Speaking of people that have worked in the business.... over the years we've had many fine leaders of MFCP.  These people gave freely of their time and talents and thereby played an important role in MFCPs development and growth.
Each month in Paperclips we are featuring an "industry pioneer."   This month we're featuring Bill Welsh, a man many of us knew and loved.  Previously we've featured Craig Trongaard, Cathy Crosby and Gladys VanDrie.  If you knew
them,
you'll want to read their stories.  If you didn't know
them,
you'll still want to read their stories.  It's because of them and many others that the industry is where it is today.   If you know of a person or company that should be
featured,
please contact us at 
director@mfcp.org
MFCP – building each other up, helping navigate hard times and growing skills since 1955. How luck
y
are we to be associated with such and industry and association?!
Lee, Executive Director